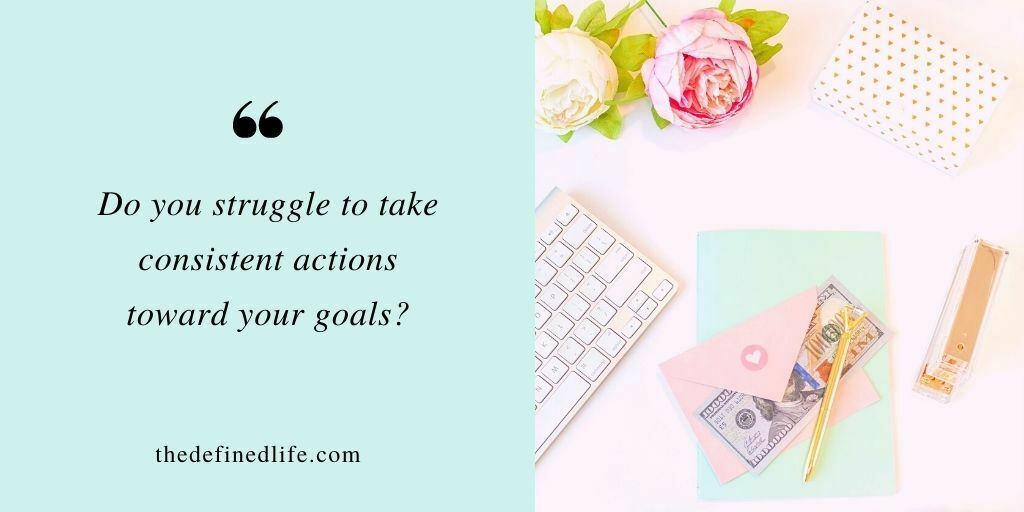 Do you struggle to take consistent actions toward your goals?
We've all been there! Sometimes, our life seems to be full of different demanding responsibilities. Sometimes we value our rest more than the work we need to put in to achieve our goals. There are many reasons why we find ourselves taking things for granted. And different reasons why we choose other things instead of the work we need to put through.
Do you have a goal? Do you have a purpose? In this post, I'll be talking about working toward a goal that is as important as your life's purpose.
If you are not yet sure how to understand and know your life's purpose, head on over to my blog post about the concept of Ikigai to learn more about your reason for being. Also, you can read some realization on how to determine your life's purpose.
We can see the importance of consistency in other people's success and areas of our lives. As I have detailed in another blog post, I talked about why consistency is essential in achieving even your most ambitious goals. I'll be honest with you- every time I feel like I'm wasting my time writing or doing something for this blog, I'll open that blog post and read it again and again.
Going back to the question above, here are four tips I keep using to push me to take consistent actions toward a goal.
Related: Do you believe that consistency is one of the key ingredients in fulfilling your dreams or plans? This blog post will explain the importance of consistency in pursuing any goals!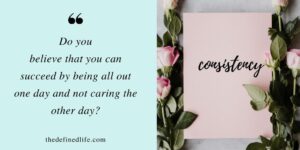 Strive for progress and not perfection
Get this little mindset shift! Ditch perfection and do not let yourself be criticized by your expected outcome. You don't need to impress someone else by presenting a dramatic change in your work or whatever it is you are planning.
Are you trying to impress someone, or are you trying to be overly critical about yourself, your talents, or abilities?
While it is healthy to know your weaknesses, it is not required for you to be harsh about them. This type of mindset will not help you be consistent. Instead, you will end up being the one to stop yourself because you have no confidence that you can put in excellent work.
Do you see how painful it is? By trying our best to be perfect, we end up not doing anything.
Aim for progress, instead. It will help you develop all the skills you'll need along the way. Do things little by little and go in the flow.
Break down your goal
It is often tough to take consistent actions toward your big goal. But it should not be that way if only we understand the power of breaking down our goals.
You know for sure what's your ultimate goal or your purpose but are you a hundred percent clear of the steps that will move you closer to the big one? Or are you striving to do scattered things you thought will benefit you?
Before we start taking action, we must have a plan in place. Yes, knowing the end goal or result is essential, but having a clear step-by-step plan is equally necessary-, and that's what I mean by "breaking down a goal."
How to do it? Identify your biggest goal or result. What can you do in a year, months, weeks, or days to help you work for it?
By breaking down your goals, you'll gain clarity. You'll find that you are now motivated to take consistent actions no matter how small it is because you now understand that it is not wasted. Instead, it is inching you closer to your desired outcome.
Having monthly, weekly, and daily goals designed to achieve your biggest goal is crucial for your future success.
Stay consistent by holding yourself accountable
Sometimes, we cannot take consistent actions for our goals or desired outcome because we do not hold ourselves accountable. Of course, it is evident that your goals are your sole responsibility. Even if you receive help from different people, your set goals' success and failure are placed on your shoulders.
Are you holding yourself accountable for the dream life you're creating for yourself? Or are you undermining your ability to direct your tasks' completeness because you look down upon yourself and what you can do?
Remember the times when someone you looked up to or has a more significant influence over you has given you specific projects or tasks to complete. You'd end up taking the tasks or project. You'll works on the project maybe because it is assigned to you and there are disadvantages if you failed to do so.
Imagine what your boss can do? They can force you to work on specific projects even if you don't like it because there is something at stake- your job! Insert evil laugh!
Hey! thanks for reading my blog! I appreciate it so much! Wanna be notified when I publish new blogs? Or do you want to have an access to my resource library with free worksheets to improve your life? Join my list and get the password!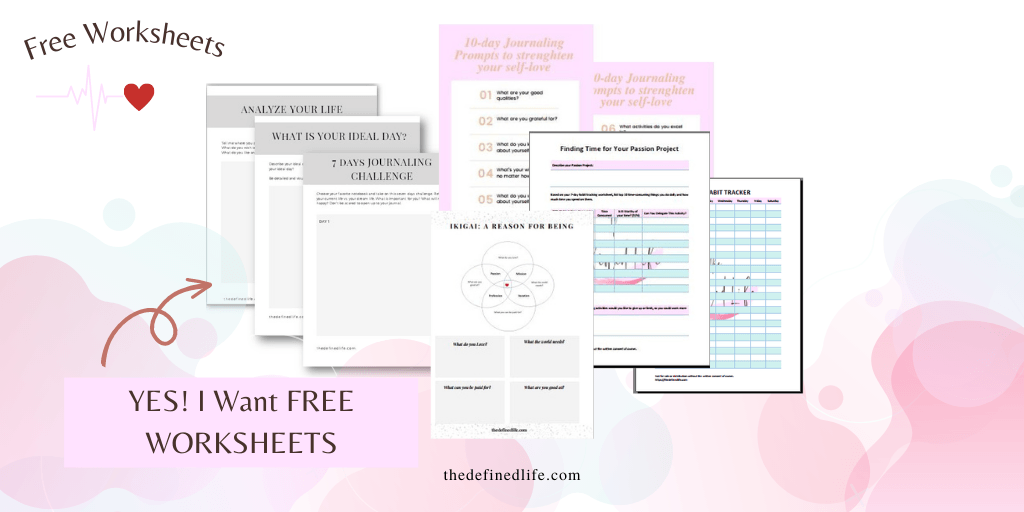 If your boss or someone can hold you accountable for something, why can't you do it for yourself when you know that you are working toward something meaningful. Isn't something big is at stake also if you failed to start taking consistent actions now?
Prove to yourself that you have power over actions. Know what's at stake if you continue to ignore taking action.
Find the balance! Find the inspiration!
Take consistent actions by finding your inspiration and living in the present. Balance is where you live and appreciate every moment of your life while working for your desired life. Having a purpose is an exciting feeling, but it is not easy as it seems.
The greater the visions, the greater the work behind the scenes.
That's why finding the balance between your present life and your planned future life is essential in taking consistent actions. No matter how grand your goals are and how much work you need, it is not an excuse to make yourself or your health or life balance suffers.
You'll never stay consistent if you are burned out in the early stages of your plan, and you won't have the energy to pursue further in your journey.
Final notes to take consistent actions
We have different aspirations, and we are all dreaming of a beautiful life. That's why we cannot ask other people to do things for us or work for our dreams for free. Changes start within us, and we must be the ones to hold the steering wheel to our desired destinations.
If you believe that consistency can take you further in your chosen path, then you'll do your best to put these four tips to work.
Browse and read more blog posts about personal improvement and productivity. See all topics here.
How do you push yourself to work consistently toward your goal? I'm interested to know your thoughts. Please leave a comment.