The IKIGAI Concept: We only have one shot at this life, and it only fits that we know the reason/s why we exist. Others found their calling way earlier than some and even luckier that they can pursue it without thinking twice.
But for the average ones or even the majority, life is not as simple as jumping in a heartbeat to pursue the life you want, especially if there are responsibilities on your shoulders. I hear this so much from a friend of how frustrating it is that she cannot do the things she wants because of her duties.
I admit that I felt the same three years ago. I don't know why I need to live and to say- what I'm doing in my everyday life is tiring. Or, I don't know how to live my life. Until I stumble upon this concept:
The IKIGAI! The Japanese way of figuring out what to do with your life.
Yes, this concept is the reason you are reading this, and the reason why the defined life exists.
What is Ikigai?
It is a Japanese term which means a reason for being- as simple as it sounds, this concept has proven itself on me. The ikigai model (image below) is the easiest way to introduce this concept.
The Concept of Happiness
I can relate ikigai to the concept of happiness because it answers an essential question for anyone who wants to live their life's purpose. And also, how can you do something you love while continue living an abundant and meaningful life?
How to Determine Your IKIGAI- Answering Your Four Major Questions
The little red heart in the middle of the model is the ikigai! By looking at the model, we can see that your ikigai should be where all the elements are balanced. By answering the four areas truthfully, one can arrive at something that balances everything. I will walk you through the process of this concept:
#1: What do you Love?
A question to determine what you are passionate about. Knowing what you want and what sparks happiness in you can be defined where your mind wanders from time to time.
In my article about finding your purpose and about journaling, you can notice where your mind and heart take you by observing your writings and also answering some important questions.
I suggest having a mindful day, ask yourself what really makes you happy? In my case, I write the following:
Like Others, I love making money- because I want to live an abundant life where I will not be worrying about it
I love writing ever since I can remember
Organizing makes me feel peaceful. I want a planner to see my day and I use journaling to inventory and process my thoughts, and I desire for my things to have their designated spaces.
I love working for my dreams- it is always my goal to work for myself and build my source of income. Meaning, I don't want to work for someone else forever. It is because I love freedom, and I want to use my time to build my own business.
I love to have a relaxed life.
#2: What the world needs?
It is the question to answer what is your mission to this world. But of course, the world needs a lot of things. The question and the thing you need to know is based on your experience. Is there a point in your life that you feel helpless? Is there a point where you wish something or someone offers some help?
Consider yourself as the world and ask what do you need?
To give you an idea, I write the following while placing myself as the world itself:
I think and believe that helping someone to get through a difficult situation is always worth it. I believe that the world (or I) need someone to give me some light in my journey.
#3: What you can be paid for?
I love that the ikigai model didn't disregard this vital question. And we are lucky that we are born in this era where everything is possible. Writers are now content creators, copywriters, etc. Painters or the one skilled in pencils and colors can now be graphic designers, logo designers, etc. People who love making crafts can now sell their works online and in front of much bigger markets.
Earning a living is not limited to traditional ways today, and we should be grateful for it. Anything is possible today, and if you are still not convinced, then you need to think twice.
Identify your skills or what you want to learn in the future to live the life you want while pursuing something you love.
For me, I graduated with a degree in Accounting, so I write that I can earn by providing audit and consultancy services.
But concerning my passion for writing, I write that I can be paid by having a money-making blog. Also, I entertained the idea of having an e-book that I can self-publish.
#4: What are you good at?
You know the drill. Answer this by thinking about what skills or knowledge you have accumulated in the past, and possibly what you want to learn in the future.
Having a degree in Accounting and practicing audit and consultancy for years is enough for me, at least for myself, to consider that I'm good at it.
And I also humbly believe that I can write 😊.
How to Determine Your IKIGAI- The Sweet Spot
Now that we answered that four significant questions, it is time to determine the balancing point of every four questions. Like our model, all of the four areas will have to be in one sweet spot or the little red heart.
What's for me??? Drum roll, please…
My ikigai is to be a Writer. You're not surprised, right? Because you are here in my blog, and that means I'm taking actions toward it. It just takes a lot of time for me to be brave, though.
Hey! thanks for reading my blog! I appreciate it so much! Wanna be notified when I publish new blogs? Or do you want to have an access to my resource library with free worksheets to improve your life? Join my list and get the password!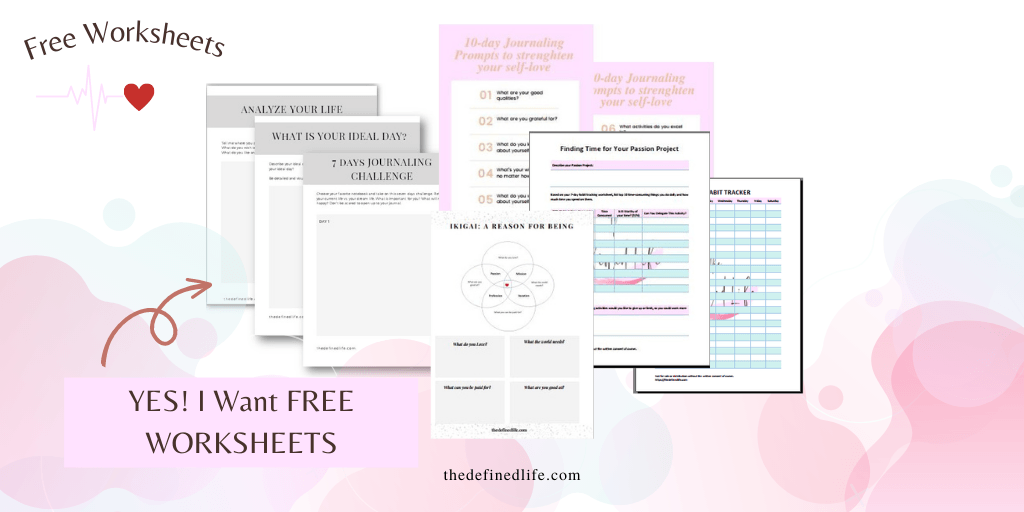 So, why is it to be a writer? To think that I can practice Accounting and be able to make money and help enterprises, right?
If you are wondering why it turns out this way, well, the answer will be in the first question, what do I love. Even if the first four things can be satisfied by being an Accounting practitioner, it will honestly not give me a relaxed life.
A relaxed life for me is being free and doing my own thing. And speaking from my experience, you cannot have a carefree life while doing an Accounting or Auditing job. That is my say, but maybe you have a different story to tell.
And beside it didn't satisfy the question, what the world (or I) need. Yeah, preparing reports and such can help the owners or someone in the business to make the correct decision, but that is not what made me happy.
The funny thing is, while you do this exercise you will notice that you know where you are going. The moment you read the questions and answer them, you will see where your mind and heart want to say or do. And I found that so amazing.
Finding your reason for being is just the first step for a big journey. The most important thing is- are you willing to be brave enough to pursue your realization? Because I did, and I found peace and everything falls into its right place.
I'm excited to hear about your ikigai.
If you found this post helpful, don't forget to share this with someone who might need this. I'm so happy that you are here.
I will be waiting for your stories or just a simple hello! Please send me an email at [email protected].
Till next time!