SUBSCRIBE TO MY MAILING LIST AND GET A FREE WORKSHEET/TOOL IN HELPING YOU ANSWER YOUR TRUE LIFE PURPOSE!
Living in an autopilot every day is not a way to live a fulfilling life. Others might have a job that could bring them lots of money, but it is so far from the wish they have in the back of their heads. Sometimes an Accountant earning a decent amount of money may have thoughts of leaving everything and live beside a serene mountain and write to make a living- sounds like me.
We might envy the people who have found their purpose in life early in their lives- we can imagine them as the person with a fire burning in their hearts. Their hearts burn for their one definite goal, and although some of them are silent, we can somehow feel their emotions radiating whenever they are doing what they want to do. We can hear the excitement in their voices, and we can see the passion in their eyes whenever they talk about the things that matter in their hearts.
I'm not new to writing because when I was just 13 years old, my father influenced me to write. No, he is not a writer, but since I was young, every afternoon, he will sit beside me and tell me stories of princes and princesses and their adventures. That moment influenced me to write, and I even have a notebook filled with short stories. When I'm 13 or 14 years old- I made three kinds of long stories- I often read them to my father, and I won't forget what he told me. "Just write, you will be a good storyteller."
Too bad that he died when I was just 20 years old, and he won't know that I started to put myself out to the world and began writing for real.
Finding Your Purpose in Life is Important Because:
It will make you feel alive.
It will make your life worth living, and you wouldn't care how silly it is for others. You know that no one can shake your belief that it is worth doing.
If we have a purpose, then we can give ourselves a reason to wake up every day and enthusiasm to take action towards our goal no matter how small those actions may be.
How to find your Purpose in Life
Be aware of what is happening and where you are in your life now
Tell me what you are doing now, last month or a few months ago, does it feel right? Does it feel better every day? Are you satisfied and happy, or do you feel empty? The series of events in our lives are sometimes weird, for my account- I noticed that my previous situation is the one that pushes me in a decision to enter blogging finally.
Ever since 2012, I kept feeling unsatisfied about my job and my life. I consulted my eldest brother about it, and I told him that I don't want to feel negative anymore, and he told me just to read a lot of good quotes. But I did more than that, I started reading self-improvement articles online and there the awakening moment when I told myself, I want to write something like this for others too.
You will not imagine the relief it made me feel upon reading those new ideas – that you can reprogram your mind, and you can live the life that you desire. That there is a thing called Limiting Beliefs that is one of the reasons why you are not achieving your goals in life.
To find your purpose in life, take notice where your mind wanders.
It said that "where your mind goes, your heart follows." I'm not talking about those nightmarish events that happened or those that you are worried about in the future, but I'm talking about those moments when you sigh and says " I wonder how I can be like that" not to become like some other person but certain events you can see in your mind.
If your mind wanders about a life where you are living on your terms- working for no one but still receiving abundance in life, and it doesn't seem to fit in your current situation, then you are one step closer to finding your purpose.
Hey! Thanks for dropping by. I want to give these FREE worksheets, journaling prompts, and other tools to help you live your best life. You can subscribe and get access here. You'll also be included in my email list when you subscribe. But don't worry, I won't spam 🙂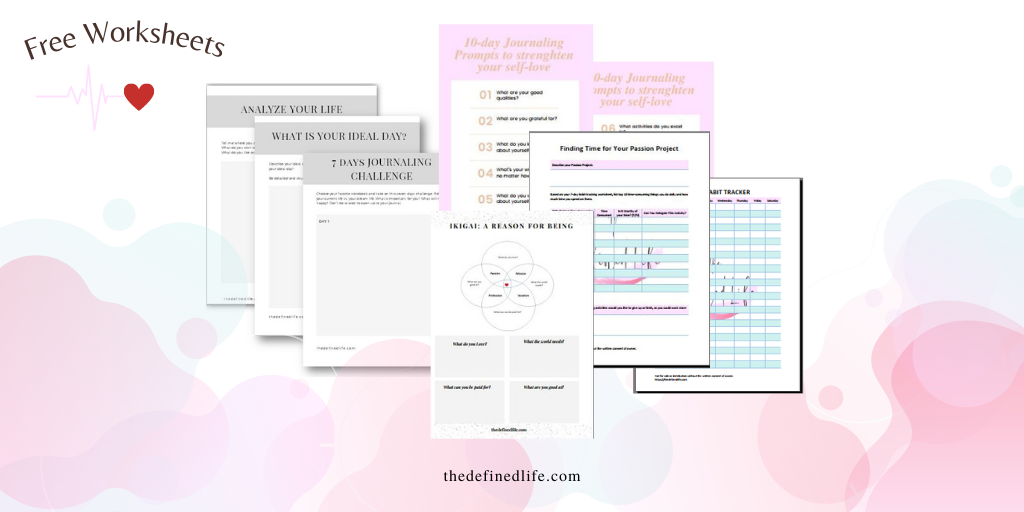 Identify what you want and don't want.
Related to the advice above, I told you that you are a step closer to finding your purpose if you know and observe where your mind wanders. I have learned it the hard way, but your purpose is so personal to you. In this life, different opinions and insights often restrict us. For example, you cannot be a (insert something you want to do that won't make lots of money), and you should be a (insert a profession earning lots of money) instead. There is a bunch of other reason.
I cannot blame you if you are influenced by someone else to take that path because you don't have the capacity YET to decide on your own. But it is the right time to see for real in your mind how your ideal day will be.
If, for some reason, you cannot visualize your ideal day, then think about the day you will hate. Hehe. Because if you hate it, you can steer your beautiful mind to the opposite, and you can identify what you want instead.
Have a journal and begin analyzing it
In my other post, I discussed how journaling could help us re-organize our thought. Through journaling, not just we can visualize what our heart desires or loathes, but we can arrive at final written evidence. Do words keep popping on every side of the page of your journal? It might mean something.
Read also: How Journaling Improve My Life
I will not advise you to jump out of the boat you're in and drown in the deep sea just because this article made you realize that your purpose in life is to get to the very bottom of the sea. You will die. Yes, you will die without the proper underwater equipment, and we don't want that. So, what's the sense of all this? To wake you up and stop you from living a meaningless life, and perhaps you can start to pick yourself up again and start working on this dream little by little.
If this article helped you in finding your purpose in life, I would love to hear about it. Please share this to your loved ones!
To a meaningful life,