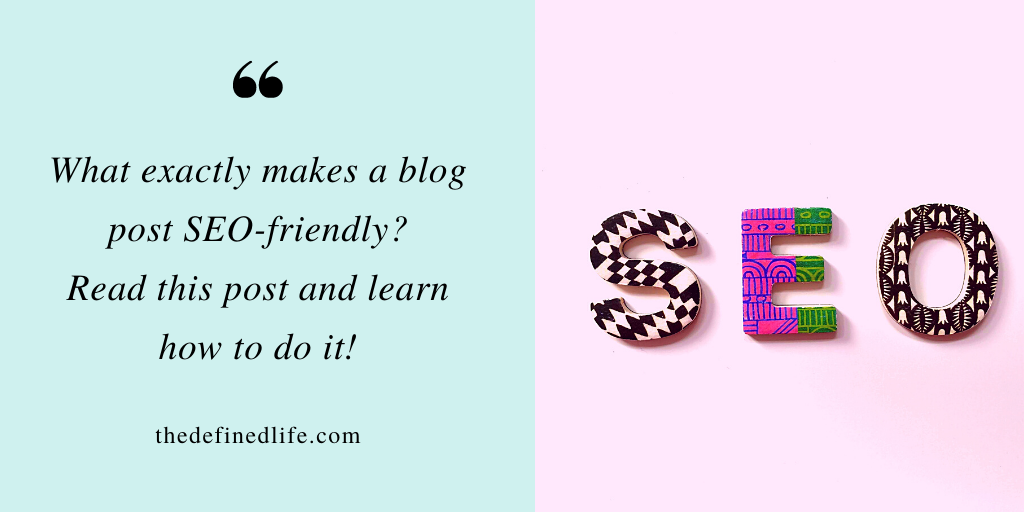 What exactly makes a blog post SEO-friendly?
Let's have a quick overview of SEO or Search Engine Optimization. SEO helps your blog/website and its content be visible in search engines. A website with good SEO will appear in relevant search in related search engine queries.
For example, if your website is all about selling a book. You'll want to appear in a search query related to your blog/website- that is, books for sale.
This is exactly why an SEO-friendly blog post is important for any blog. When your content is optimized for SEO purposes, your target audience will easily find you and decided if your content is what they need.
I know that the term "keywords" is popularly linked to SEO. A little note, however, this blog post is not about keyword research. This blog post will tackle how you'll use your keywords to make your blog post SEO-friendly, together with other tips that will make your content recognized by search engines.
Although this blog post is not about keyword research, it will be briefly discussed to complete the learning process.
A detailed blog post about keyword research will be published soon.
Effective keyword research will make your content SEO friendly.
As explained earlier in this post, you'll want your website and contents to appear on search queries related to what your website is about.
If you're blogging in a personal finance niche- it is only fitting that your blog will appear when a person searched for budgeting, saving money, and the like, for example.
Effective SEO research will help you achieve your goal of having an SEO optimized blog post because you cannot merely put any words and thought of it as a keyword.
An effective keyword is the word or string of words that are being searched by the users. Of course, you don't need to do it on your own. Instead, there are many tools out there to help you see if a keyword is being searched, for real. Here are some of the keyword tools
Google Keyword Planner
SEMrush
Ahrefs
KWFinder
Keywords everywhere (The one I'm using) The one in the picture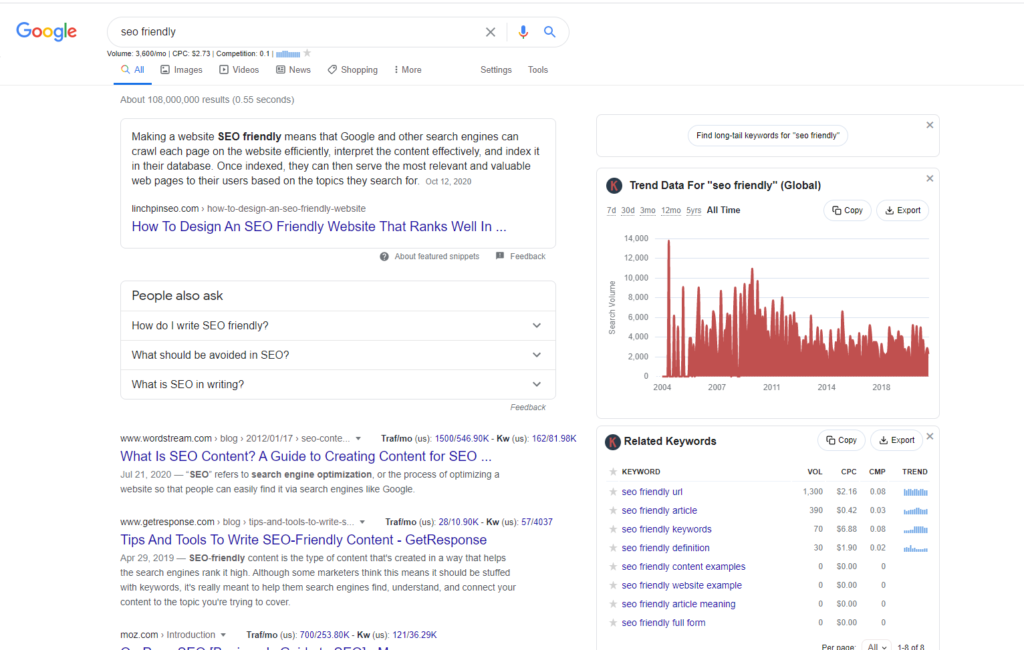 Basically, the thing to remember when choosing your keyword is to see the Volume and Competition. In this example, the keyword SEO friendly has a volume of 3,600 searches per month and a competition of 0.1- which is fine.
Do you see? If you write a blog post with 0 volume, you'll not see any Search Engine traffic.
Are you still confused about blogging terms and the basics? I have a post to answer your most common question about blogging here.
The Writing Process to make an SEO
-friendly blog post
Now that you are confident about your keyword research result, your keywords are now ready at your disposal. The next question now is, how and where are you going to use those precious keywords?
But before that, I need to tell you that making your post SEO friendly doesn't start and end with keywords alone. That is why this part of the post will be discussing the process you'll need to adapt to make your post fit for SEO. Not just the correct way of using keywords, but also other important things to consider.
Keep in mind that you're writing your post with the intention of using your keywords.
First and foremost, you'll need to stick to your researched keywords and long-tail keywords.
Meaning, even when drafting your post, you need to make sure that your entire content is relevant to your researched keywords. Repeat your keywords throughout your writing process.
However, do it effortlessly and don't end up having a confusing blog post for the sake of repeating your keywords.
SEO focuses on the quality and quantity of the content
Ranking at the first page of the search engine can be the combination of different proven SEO ranking factors. It could be that the website has a high Domain Authority, or they are enjoying monumental traffic already from their website.
But look at the relevance and quality of the pages or posts ranking in the first page of the Search Engine results. You'll notice that most of the content ranking in the first page is well-written, informative, and long-form posts. By the way, I'm talking about organic results.
Also, I'll advise you to break down your blog post into different subheadings and don't use a big chunk of paragraphs simultaneously. Be mindful of your blog's font size; small font size will not help the reader have an amazing experience on your website.
Still confused about blogging terms and the basics? I have a post to answer your most common question about blogging here.
Actionable tip: make your post not less than a thousand words, make it informative, interesting, or whatever it's supposed to be.
Where and how to use your keywords?
As a new blogger whose authority is not yet well-established, our only hope is to enhance the areas we can control. That is to understand and apply our researched keywords as a valuable part of off-page Search Engine Optimization.
Since keywords are a useful tool that will relate our blog posts to their audience through search engine queries, we must know how to use them. And here it is:
Use your keywords in the URL of your post.
Don't use the complicated URL default for your post. Instead, use your researched keywords and make it shorter. Here is an example: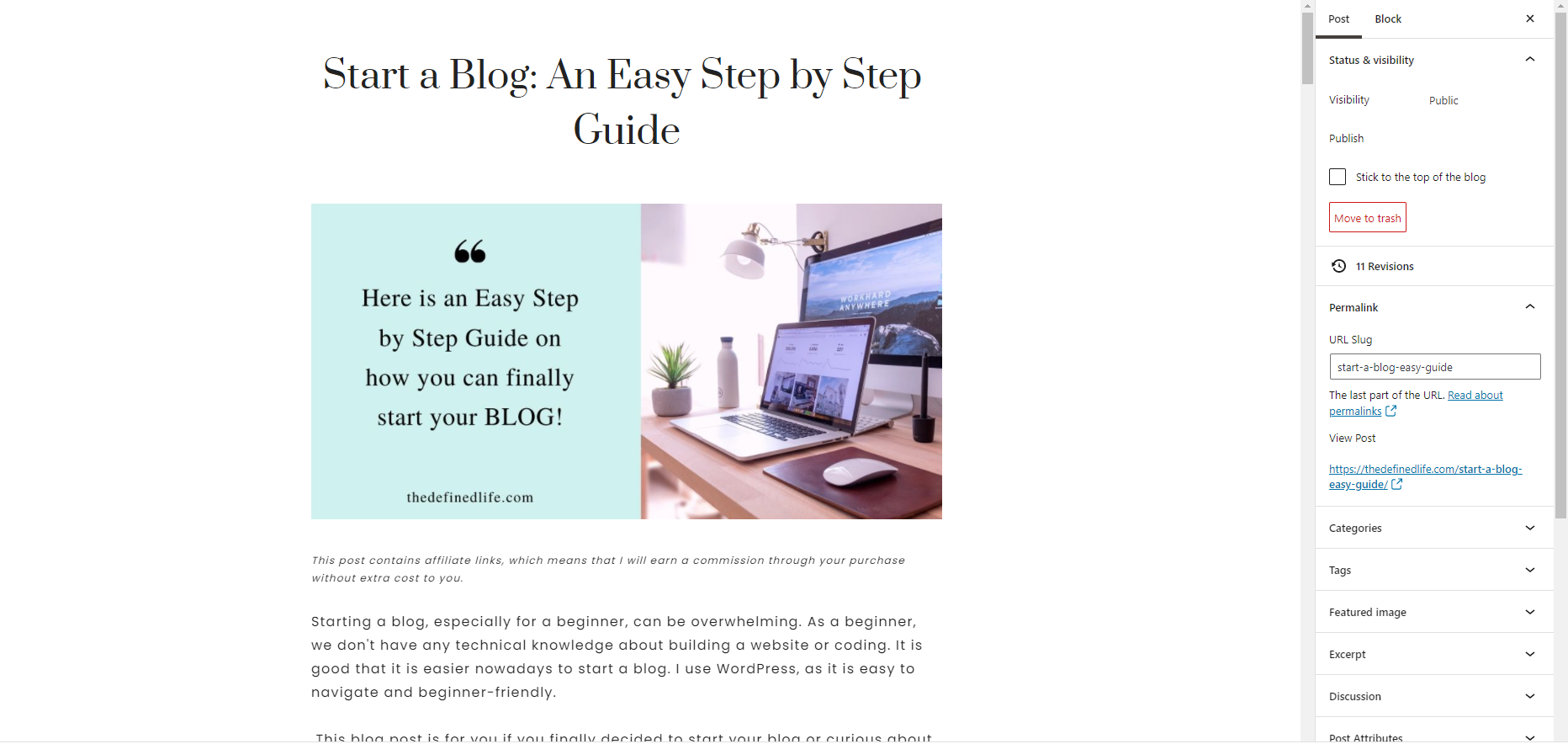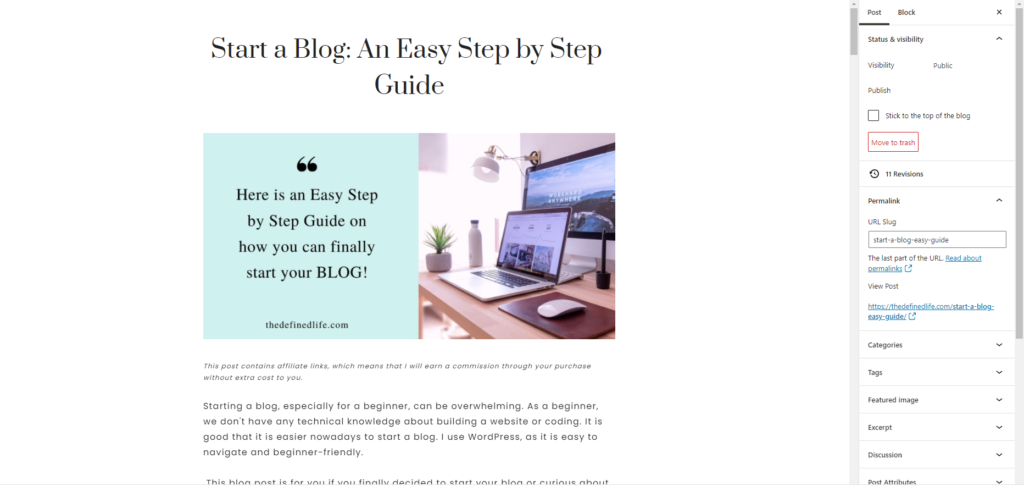 Since my chosen keyword is "Start a Blog," it appears in my URL Slug. Don't worry- the URL is editable in the backend of your blogging platform (this is WordPress).
Use your keywords in your title or H1 and other headings level.
As seen in the picture above, the keyword is included in the blog post's title. Also, keywords should be included in different headings levels as well. You can use related keywords to your H2, H3, H4, etc.
Place your keywords in the alt text.
Pictures related to your blog post help your audience enjoy their experience in visiting your blog. Also, it helps you in giving a visual feel about your post. To make your blog post SEO friendly, you can add your keywords or a variation of keywords in an Alt text (Alternative text).
Your keywords in Meta Description
The meta description is the 160 characters explanation we see in the search engine used to summarize the blog posts' content briefly.
As you can see, the keyword is also found in the meta description.

Of course, I've already discussed that your keywords should appear effortlessly throughout your blog post.
It is also important to note that your keywords must appear at the first 10% part of your blog post. It will support the keywords you used in your title and improve the search engines' recognition of what your blog posts are all about.
Build SEO friendly blog post by interlinking contents within your website
Lastly, entice your readers to visit your other related blog post.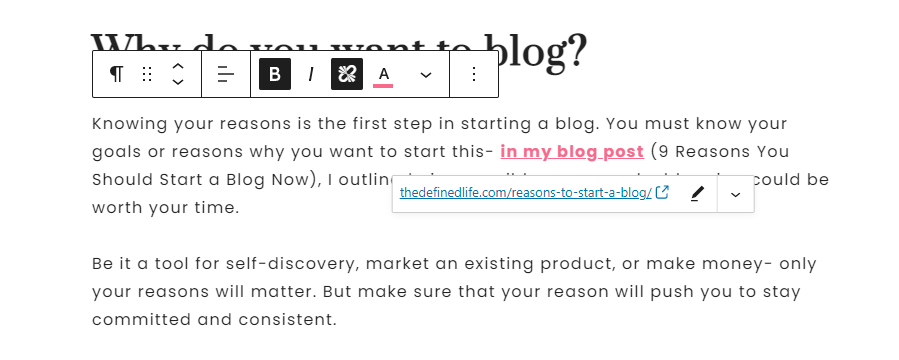 Final notes in writing an SEO-friendly blog post
I know that it may seem like a big task, and honestly, I've been procrastinating on writing my blog posts based on these processes and rules for a long time. If you want to improve your off-page SEO, then practice these tips. Download my free checklist to guide you in writing an SEO-friendly blog post.
Happy blogging!