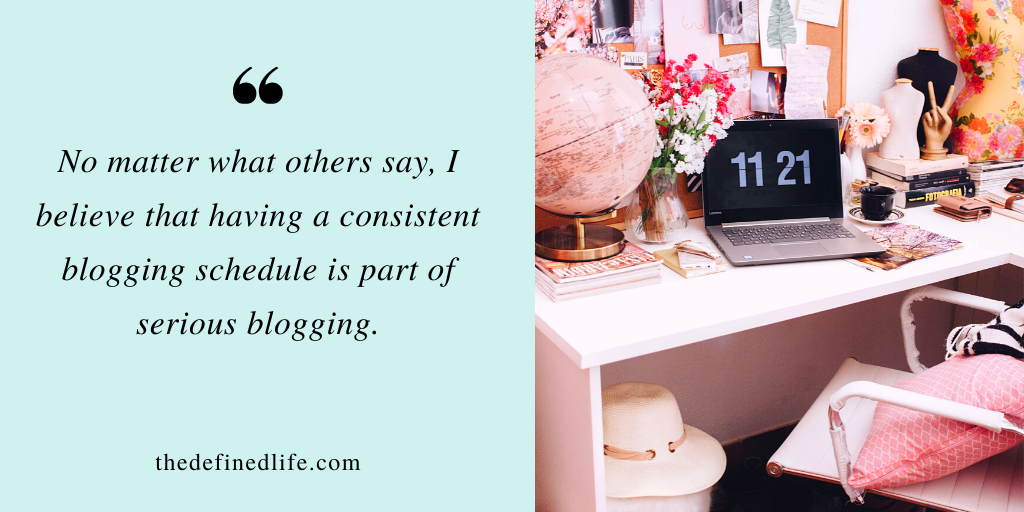 A content calendar is an indispensable tool for a blogger or content creator. As a blogger, we are responsible for keeping our website active by consistently adding quality content. But consistently adding fresh content is incredibly challenging if you do not have a clear direction or plan for your blog. This has been my problem many months after I launched my blog.
I feel like I don't have enough ideas to put out fresh content consistently. I love blogging, and I don't want to give up on my content, so I decided to have a content calendar. And it worked for me! I don't have lots of time to work on my blog. But I still managed to follow my content calendar consistently for four months now.
If you're like me and you don't have all the time in the world to do your blogging tasks or if you feel disorganized in your blogging-related tasks, a content calendar will help you sort things out.
Benefits of Content Calendar
Consistency
Consistency is one of the most important things we should understand and commit to as a blogger. More than other people, we need to convince ourselves, with actions, that we are taking our blogging seriously. If we do not plan on when or how we will do things, it's most likely wouldn't work for us. A content calendar helps us by giving us a clear view of what needs to be done for our blogs or for our businesses.
Organization
An organized working area is pretty and can lessen our stress. Same with blogging, an organized content calendar is very important to help us stay motivated in publishing new content. A content calendar is not only limited to your target posting date. It also contains ideas and other things that will lessen the pressure we sometimes face when making our content. A blog content calendar is a backbone to your soon-to-be published blog posts.
Actionable
Our content calendar makes our blogging tasks look easy by giving us an overview of the processes that need to be done before hitting the Publish button. And we are more likely to have the least resistance to the things that seem easy for us. Creating a content calendar is a great tool to help us break down the steps needed in publishing new content into manageable tasks.
Content calendar ideas: How to make a content calendar
A content calendar should be fit to the needs of the individual blogger. However, here are essential content calendar ideas you should include in creating your content calendar:
#1 What are your goals for your content?
What you'll need in your content calendar is based on your goals. Start by setting a specific number of times per week you planned to publish new content in your blog.
#2 Include a Working Title
Having sets of a working title is especially useful in staying on course with your chosen topic. With the selected working title in mind, it is easier to ensure that what you're writing about is aligned with your title.
#3 Your set of SEO keywords and long-tail keywords
Including your researched keywords will help ensure that your blog post will be SEO-friendly. SEO keywords should not be ignored as the search engine used them to see your blog or website.
#4 Include your ideas
In a way, a content calendar can be used to brainstorm what will go into your blog posts. Your ideas should be based on your working title and SEO keywords, too.
#5 Category
If your blog has different categories, it is also advisable to put a category column in your content calendar. It will make your content calendar organized.
To implement these content calendar ideas, here is a FREE editable content planning and content calendar template! Thanks for reading my blog.
#6 Internal Links
Internal link refers to linking to another blog post on your website. Internal linking is essential for SEO, and it should be included in your blog content planning. Before, I don't mind including the internal linking in my planning. But I found it easier to plan my blog posts if I include internal linking in my future planning. I find it easier to smoothly insert the idea of another blog post in the post I'm currently working on.
#7 External Links
Same with internal linking, external linking is vital in SEO too. External linking is essential to establish additional information in your blog posts. You can link to other resources that will help you explain your point in your blog. Or you can link to another website that offers additional information that your readers might need.
#8 Media
Yes, including a link of media you're going to use in your post is essential in your content planning too. If you are using your images or other media from other sources like pixabay or unsplash, linking to the exact media will save you time when you are doing your blog posts.
However, I have a different way of using the media column in my content calendar. My practice is that I'll research photos, edit them in Canva, and then I download them. I will rename my edited images, and that name will go to my content calendar.
#9 Post's Link
I include the post's link to my content calendar ahead of time. Since I can change the permalink in WordPress, I use a permalink that includes my researched keywords.
#10 Date Published
And finally, I include the date when the blog post is published in my website. Doing this helps stay organized and serves as a reminder if a particular blog posts need to be upgraded or changed in the future.
Final few thoughts about having a content calendar
No matter what others say, I believe that having a consistent blogging schedule is part of serious blogging. Consistency is one factor in determining one's success, not just in blogging but with any goals in life. Content planning successfully cured my procrastination in a way, and it helped me organized my blogging system.
Want to read other easy to digest and beginner-friendly blog post? Browse Blogging/Writing Category here.
Do you use a content calendar? Do you have a content planning strategy in place? Let me know in the comment section.